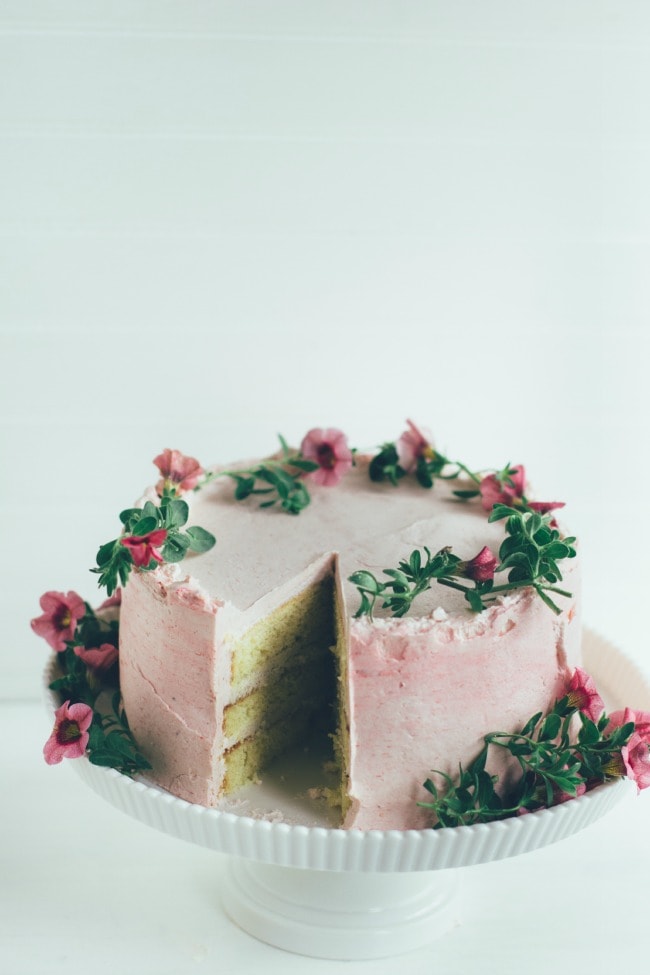 This cake was made in celebration of Saveur Magazine's 20th birthday. When it comes to cake I only think in chocolate, but I got the idea of rhubarb buttercream in my head and thought it would pair better with a white cake (although, after eating it, I think it could go either way). There are 21 cakes altogether on the above link, and I recommend checking them out; so many beauties.
We're still in the moving zone here; we've got one week to pack up the rest of our house and say our good-byes. I feel very bittersweet about the whole affair, but am looking forward to the change.
"So the tree rustles in the evening, when we stand uneasy before our own childish thoughts: Trees have long thoughts, long-breathing and restful, just as they have longer lives than ours. They are wiser than we are, as long as we do not listen to them. But when we have learned how to listen to trees, then the brevity and the quickness and the childlike hastiness of our thoughts achieve an incomparable joy. Whoever has learned how to listen to trees no longer wants to be a tree. He wants to be nothing except what he is. That is home. That is happiness."-Herman Hesse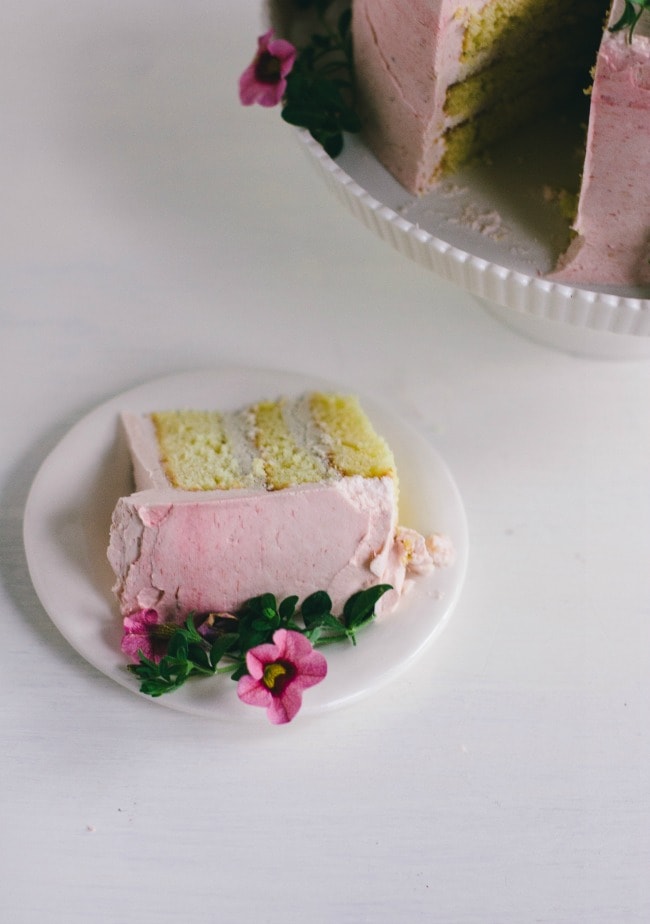 Buttermilk Cake with Rhubarb Frosting and Cardamom Cream
Buttermilk Cake
adapted from Nothing but Delicious
3 cups all-purpose flour
1 tablespoon baking powder
1 teaspoon salt
1 cup (two sticks) unsalted butter at room temperature (about 70 degrees)
2 cups sugar
4 large eggs, room temperature
2 teaspoons vanilla extract
1/2 cup buttermilk
1/2 cup sour cream
Preheat the oven to 350. Butter three 8-inch round cake pans (make sure cake pans are at least 2 inches tall). Line the bottoms of the pans with parchment paper, then butter and flour the pans (if you need a visual on this step, here is a You Tube video that is helpful).
In a small bowl, whisk together the flour, baking powder, and salt. Set aside. Mix together the buttermilk and sour cream in a small measuring cup, and set aside.
In the bowl of a standing mixer, whip the butter with a whisk attachment at medium speed until light and fluffy. Add the sugar, and beat again until light and fluffy, about 3 minutes. Add eggs one at a time, scraping down the sides as needed. Add the vanilla, then whisk the batter again at medium speed for 4-5 minutes, until the batter is light and voluminous.
Using a spatula, fold in the flour and the buttermilk-sour cream mixture in three additions, beginning and ending with the flour.
Divide batter evenly among the prepared cake pans and bake 25-30 minutes, or until set in the center and a cake tester comes out with just the slightest bit of crumb.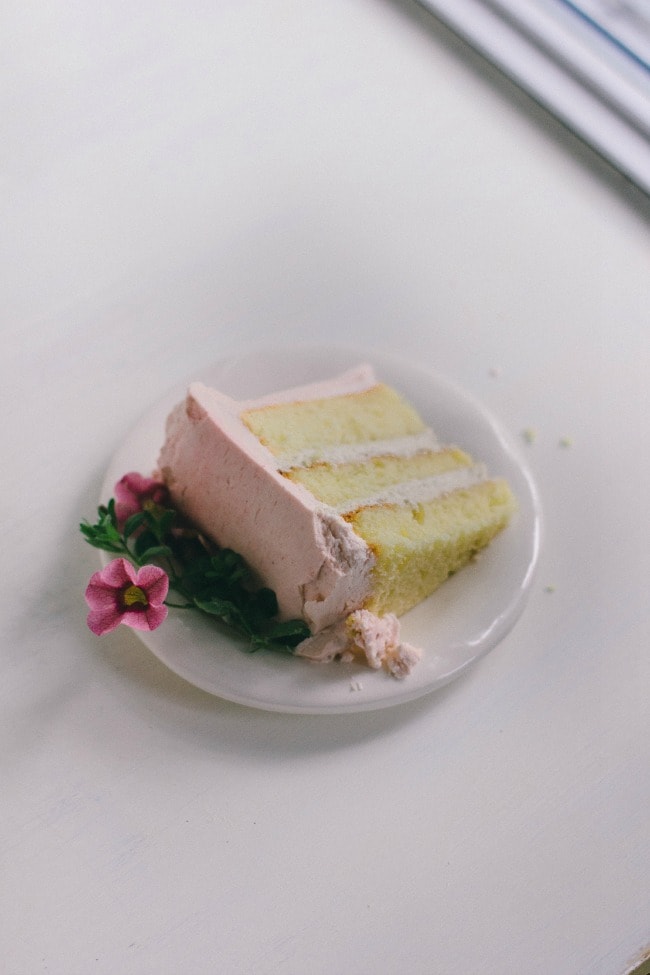 Rhubarb Buttercream
adapted from Martha Stewart
I was really happy with how this buttercream turned out. Usually this type of frosting is too sweet and rich for me, but the tart rhubarb balances thing so well. I did need to use food coloring here to get the frosting looking pink; I used just a few drops. The rhubarb will leave a few tiny strings in the frosting, but I liked how they looked.
I've had good luck with this buttercream, but it did break on me once. If you have the same trouble, here are some great tips from The Kitchn on how to save a broken buttercream.
2 cups (16 ounces) rhubarb, chopped into 1-inch pieces
1/2 cup water
food coloring (optional, see note)
4 egg whites, room temperature
1 1/4 cups sugar
good pinch of salt
3/4 pound (3 sticks) unsalted butter
1 teaspoon vanilla
Place the rhubarb and water in a medium sauce pan. Bring to a boil, and then let simmer for 15-18 minutes until rhubarb is tender and most the water has evaporated. Place the rhubarb in a food processor, and process until it is a smooth purée. If you'd like to add food coloring to brighten the color of the purée, add a few drops now, and then pulse the rhubarb a bit more, until the food coloring is evenly distributed. Set the purée aside to cool.
Place the egg whites, sugar, and pinch of salt in a heatproof mixer bowl set over a pot of simmering water. Whisk until sugar dissolves and mixture registers 160 degrees on a candy thermometer. Remove the bowl from the heat, and using a whisk attachment, whisk the mixture on medium speed for 5 minutes. Increase the mixer speed to medium-high, and then whisk until stiff, glossy peaks form, about 6 minutes. Reduce the speed to medium again, and add the butter, 1 piece at a time, whisking well after each addition. When the butter has been completely incorporated, switch to the paddle attachment. With the mixer running on low, add the vanilla, and then the cooled rhubarb puree, and beat until smooth, 3 to 5 minutes. Use immediately, or cover, and refrigerate.
Cardamom Cream
My family was split down the middle about this cream; half of them loved how it complemented the rhubarb flavor, and the other half wanted it just to be rhubarb buttercream in the layers. I personally think either way would make a delicious cake. If you choose to omit it, you'll have enough buttercream to frost the cake, but may not have a lot left over for any pipping or decorating. This recipe will give you quite a thick layer of cream in between the layers, so if you'd like less, don't use all of it. Also, I liked 2 teaspoons of cardamom here, but 1 teaspoon will give a more subtle flavor.
8 ounces cream cheese, room temperature
1/4 cup (4 tablespoons) unsalted butter, room temperature
1/2 cup sugar
1 teaspoon vanilla
1-2 teaspoons cardamom (see note)
Beat the cream cheese and butter on medium-high speed until light and fluffy. Gradually add the sugar and beat until smooth, about 3-4 minutes. Add the vanilla and cardamom, and mix until combined.
To assemble:
Place one layer of the cake on a serving plate. Put half of the cardamom cream on top of the layer, spread evenly over the cake, and then top with another layer of cake. Add the rest of the cardamom cream and spread evenly over the second layer of cake, and then top with the final layer. Frost the cake with the rhubarb buttercream.