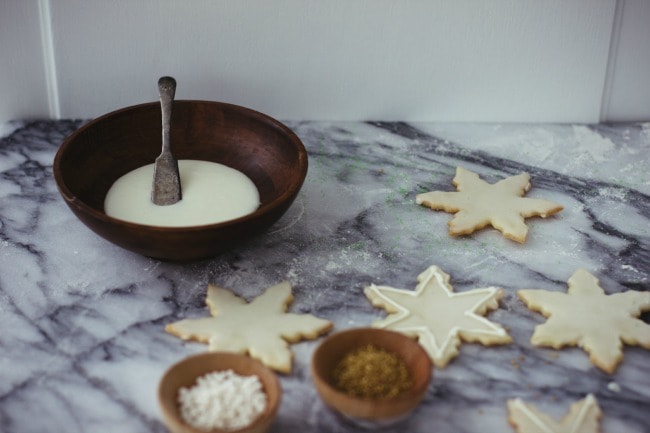 This past weekend the kids and I headed to my sister's house for a cookie decorating party. It was really a few hours to eat cookie dough and spill sprinkles all over Auntie's floor, but we all sure had fun anyway. This December has been rather odd for me; our house troubles are still ongoing (we are now currently gutting our entire basement and can't run our furnace in freezing Minneapolis) and my father-in-law has temporarily moved in with us for a bit (to help with said basement and spend time with the kids). All those things combined make me feel slightly displaced – our home still doesn't feel like 'home' to us as we struggle with trying to find root problems and share space. My facebook feed has also been filled with tragedy this past week, adding another layer of sadness. I've been listening to a lot of holiday music, finding solace in lyrics of Christmas cheer and hidden thoughtfulness.
The table is set
And all glasses are full
The pieces go missing
May we still feel whole
We'll build new traditions in place of the old
Cause life without revision will silence our souls
 So we sing carols softly
As sweet as we know
A prayer that our burdens will lift as we go
Like young love still waiting under mistletoe
We'll welcome December with tireless hope
-Sleeping At Last, Snow
Speaking of Holiday music, my Best of Christmas vol. 3 is now up on 8tracks! You can find Best of Christmas vol. 1 and vol. 2 there also. (Check out Eustace the Dragon's cover of Justice Delivers Its Gift on vol. 3 – I'm in love with their version. Also! they have a holiday EP out now. It's worth every dollar.)
And this made me chuckle: James Thurber pens "A Visit from Saint Nicholas IN THE ERNEST HEMINGWAY MANNER" for The New Yorker, December 24, 1927.
Also: 51 Of The Most Beautiful Sentences in Literature to cure a bad day.